Price: $10 for 1 font and Kaleidoscope Color Scheme
Features:
Nu Casual is a great interpretation of the classic Newton handwriting font.
The original sizes of the Newton Casual bitmap font are included in Nu Casual for Mac (14, 16 and 20 pt) so you can get that authentic Newton look.
The registered version has all the international and special characters.
You can see a preview of the whole font before you buy.
You get to see my cat (Pixel Pfeiffer, featured above in the banner :-)
About Nu Casual
Nu Casual is based on Apple Computer's bitmap font "Casual" featured on their line of Newton devices. This font is used by the Newton whenever the user types or writes anything. Designed to be highly readable on LCD screens, Casual is a great script bitmap font.
This font was previously unavailable to desktop computer users. I copied each character of the bitmap Casual font (first by squinting at my Message Pad 120 screen, then by a screen dump) into Fontographer and began designing a fully-scalable font. Quite a chore! But I think that the results are worth it.
Previous versions of Nu Casual were based on the 20 point bitmap. Starting with 2.0, I've used a new technique to make the scalable Nu Casual. The original "Casual" Newton font came in three different sizes: 14, 16, and 20. I designed an outline font based on each of these three sizes and then merged them together to form one font. This technique provides better results when making a scalable font from a bitmap. It takes into account the look of the font over a range of sizes, instead of just one.
I hope that you enjoy using these fonts as much as I enjoyed designing them for you! Send me your comments at marty@scootergraphics.com.
About Newt Color Scheme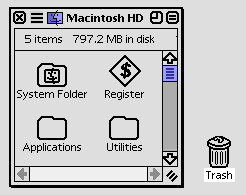 This is my Macintosh (OS 9, not OS X) Kaleidoscope Color Scheme that captures the "look and feel" of Apple Computer's Newton OS. Notice that most elements have a 2 pixel outline instead of the traditional 1 pixel. This is to increase the user's recognition of different elements on tiny LCD screens. It turns out that this works well for people with monitors that are set to high resolutions.
Check out the Kaleidoscope home page if you don't already have this popular control panel (or you have an older version).
Download Nu Casual & Newt 2.0


Nu Causal & Newt Demo
Macintosh: TrueType | PostScript
Windows: TrueType
---
| | |
| --- | --- |
| | Purchase Nu Casual by Scooter Graphics font from your web browser |
| | Send Marty a comment about his fonts. |
| | See all the fonts available from Scooter Graphics |