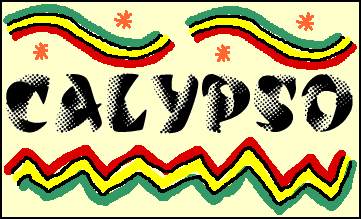 Features:
With its tiny halftone dots, Calypso is the ultimate 3-D font (and you won't even need those geeky red and green glasses).
The registered version has all the uppercase letters of the English alphabet.
You can see a preview of the whole font before you buy.
About Calypso Boy
Calypso Boy is a digital version of Roger Excoffon's 1958 Calypso, created for Fonderie Olive. The font simulates a 3-D appearance by using tiny halftone dots. I had the pleasure of creating every single halftone dot using Fontographer :-). Quite a bit of work, but I think that the end result is worth it.
I hope that you enjoy using these fonts as much as I enjoyed designing them for you! Send me your comments at marty@scootergraphics.com. The demo version on Calypso Boy includes all the letters of the registered version except the "Z". You can get a full version with all letters by purchasing the Calypso Boy package. Please see my page on how to register my fonts.
Download Calypso Boy 1.2


Calypso Boy Demo
Macintosh: PostScript | TrueType
Windows: TrueType
---
| | |
| --- | --- |
| | Purchase Calypso Boy by Scooter Graphics font from your web browser |
| | Send Marty a comment about his fonts. |
| | See all the fonts available from Scooter Graphics |